Healthy Workplace
Good indoor air and surface cleanliness enhance workplace health, comfort and productivity.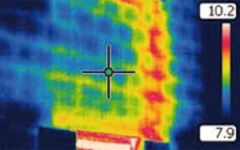 From custom operations and maintenance programs to CAFM implementation, we craft integrated solutions to support your facilities management strategy.
Read More »
With offices across Canada, we are where you need us. Get in touch »
IEQ Assessment
---
The purpose of our complementary Indoor Environmental Quality (IEQ) Assessment is to support both your occupational health and safety strategy and your energy management and office cleaning programs. The IEQ Assessment is made using technical equipment and software to complete a scientific analysis of Adenosine Triphosphate Molecules, Air Particulates, carbon dioxide (CO2), temperature, humidity, dew point, and potential insulation and energy losses. The non-invasive sample collection only takes a few minutes to do without disruption of your day-to-day operations.
IEQ refers to the air quality and cleanliness within and around buildings and structures, especially related to the health and comfort of the occupants and visitors. IEQ is determined by many factors, including noise, lighting, indoor temperature, relative humidity, and ventilation. Building occupants and visitors may be exposed to a variety of contaminants (in the form of gases and particles) from office machines, cleaning products, construction activities, carpets and furnishings, perfumes, cigarette smoke, water-damaged building materials, germs, insects, and outdoor pollutants. Sources of air and surface contamination may be constant or intermittent, or may be linked to single, unrepeated events.
People are often concerned that they have symptoms or health conditions from exposures to contaminants where they work. Although it is unclear what levels of indoor contaminants can put workers at risk for disease, contaminant sources should be researched, controlled and monitored to prevent IEQ problems.
We are committed to provide safer and healthier indoor environments through R&D and cost-effective solutions. At no cost we will conduct an IEQ Assessment and provide you with a full report on the findings and recommendations. To add more value to your organization, we could also assist you with:
Periodic IEQ assessments
Sanitation of workstations and common areas
Better cleaning services
Microbiological/mold testing
Building envelope assessment
Remediation management
Odour assessment
HVAC diagnostics and preventive maintenance
To take advantage of our FREE assessment at your facility, please click here to contact us.